If you're new to fabric softener, we're here to tell you a secret: it's an absolute godsend. The laundry conditioner makes clothes and linens soft, fresh and wrinkle-free, reducing the amount of time you need to spend with an iron in hand. Those who've never used softener before tend to become immediate converts, which is why we think it should play an essential role in every laundry routine.  
However, walking down the laundry aisle in your supermarket can be a bit startling. There are so many variations of fabric softener on offer – where do you start?
Here, we explain what fabric softener does, how to use it, and how to choose the right product. If you're already a fan, there are tips for you too – we also explore why it's worth having different fabric softeners on hand for your various lifestyle needs, with a particular focus on Huggie® products.
What's the difference between detergent and fabric softener?
If you've never used fabric softener before, then you might be confused about how it differs to laundry detergent.
Put simply, detergent helps remove dirt and grime from your clothes, while fabric softener is designed to protect and strengthen your clothing during the wash cycle so that it retains its natural shape (here's a metaphor: it's like the conditioner that you use after washing your hair with shampoo). It reduces wrinkles, static cling and the fuzz that accumulates in the wash – and of course it makes fabrics softer and fluffier on your skin. 
How do you use fabric softener?
It's incredibly easy to use fabric softener. Just add it to your fabric softener dispenser during the final rinse cycle so that it isn't washed away during the main wash cycle. This will allow it to stay on your clothes or linens as they dry, protecting the fabric.
If you don't have a fabric softener dispenser, you can add it straight into the drum (aim for a water pocket and avoid applying it directly onto a single item of clothing).
Fabric softener can be applied to most loads, though it's best avoided on moisture-wicking fabrics such as activewear (which will repel the softener), microfibre or terry cloth towels (because it will reduce their absorbency) and baby's clothing (because babies have very sensitive skin that requires a special mild detergent). 
How do you choose the right fabric softener?
You probably don't use the same laundry detergent on all of your clothing, right? You use wool wash to handwash your woollen jumpers, and bleach to freshen up your white t-shirts.
Well, you should apply the same approach to your fabric softener. Different products are formulated to achieve different results – for example, there are softeners specifically designed to reduce water absorption and dry faster. There are others that flatten seemingly impossible wrinkles in the wash. It all depends on the problem you're trying to solve.
Here are four of the most common issues that you will stumble across in the laundry, and the fabric softener products that will fix them:
The problem: Getting rid of deep-set wrinkles
The solution: Huggie® Wrinkle Release
If you've ever found your favourite shirt wadded up in a ball at the bottom of your wardrobe, you have our condolences. The wrinkles. The wrinkles! Fortunately, Huggie® Wrinkle Release is designed to address particularly stubborn, deep-set wrinkles while ensuring your clothes maintain their structure and integrity. Run an iron over the garment after washing for more long-lasting results.
The problem: Time is of the essence and you need your clothes dried fast
The solution: Huggie® Quick Dry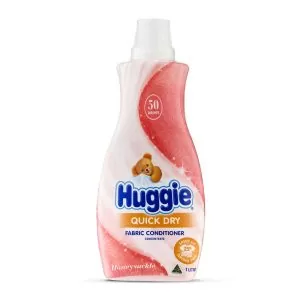 Most of us have been ambushed with a last-minute laundry emergency at least once in our lives (parents, probably more than once). Huggie® Quick Dry is the answer in this scenario. The softener absorbs 25% less water, so when it's applied during the rinse cycle, your fabrics will dry 25% faster in the dryer. We strongly recommend keeping this one on standby for work and school clothes.
The problem: Time is of the essence and you need your clothes ironed fast
The solution: Huggie® Easy Iron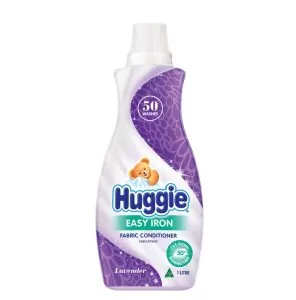 This fabric softener will reduce the time you spend on ironing by up to 50%. It's ideal when you're in a rush and you need school, work or smart-casual garments pressed in a rush.
The problem: You don't have time to do a proper wash cycle, but you still want your clothes to be fresh and soft
The solution: Huggie® Fast Cycle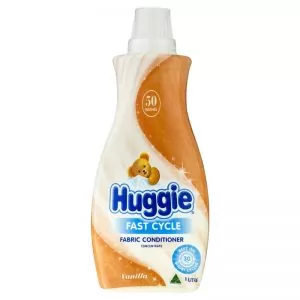 Sometimes, you only have time to run your clothes through a quick-wash cycle, but you still want the same results that you would get from a standard wash. Quick-wash cycles spin your clothing faster and use less water, so it's important to use a mild fabric softener that will protect your garment from the extra agitation. Huggie® Fast Cycle is perfect for this – it was produced to work during washes that last for fewer than 30 minutes.
Are you ready to give fabric softener a try? Next time you wander down the laundry aisle of your local supermarket, select a bottle that best suits your lifestyle and discover just how easy it is to make your clothes luxuriously soft and fragrant.